Prospective Students
January 15, 2023
Priority Master of Science Application Deadline
Classes begin July 2023
Application Fee Waived!
April 1, 2023
Regular Master of Science Application Deadline
Classes begin July 2023
Application Fee $90
Applications are open for our next cohort, beginning in July 2023.
The program takes one calendar year to complete and requires 30 credits. Because of its highly integrated curriculum, the program is intended for full-time students. Classes begin the first week of July and finish the end of the following June. The GRE test is not required for this program.
Applicants should have an academic background in quantitative analysis, political, social, or the natural sciences, or commensurate professional experience in one of these fields. Strong applicants without the prerequisite courses or professional background may still be admitted.
---
Information Session
Join us for our next Information Session on February 15, 2023 at 1:30 p.m. ET.
During this virtual session, you'll hear more about the program and the application process. Please register for the event on the Graduate School of Arts & Sciences website.
---
Past Information Session Recordings
Click to view the Addiction Policy & Practice information session video in a separate window, or watch in the embedded viewer below.
(Note: applicants are reviewed on a rolling basis until April 1st, 2023. Courses begin July 2023.)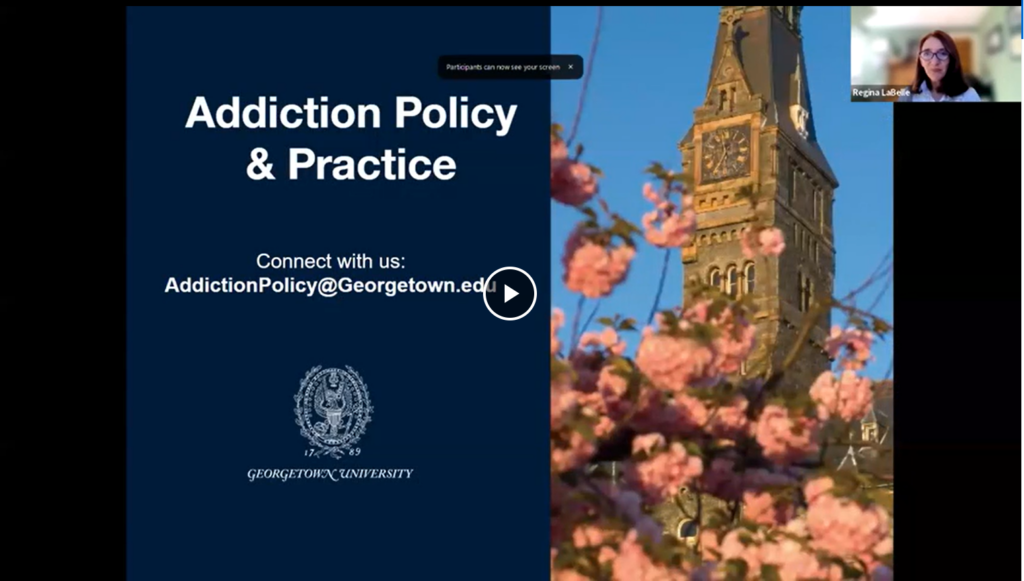 ---
FINAL DEADLINE: APRIL 1, 2023
APPLICATION REQUIREMENTS
Online Application
Non-refundable application fee
Resume or curriculum vitae
Official transcripts from all undergraduate and graduate schools attended.
Personal statement (300 – 600 words) explaining the unique qualifications of this applicant for admission to this program
Letters of recommendation (2)
Entrance exams required: TOEFL or IELTS (for students whose native language is not English)

TOEFL: a minimum score of 6oo (paper-based test) or 250 (computer-based tests) or 100 (iBT test) on the Test of English as a Foreign Language (TOEFL).

IELTS: a minimum score of 7.5 from the International English Language Testing System (IELTS).
Test scores should be received by the application deadline date. Applicants should allow six to eight weeks from the test date for the reporting of scores. If you are a non-native speaker of English and received a bachelor's or advanced degree from an accredited institution of higher education where English is the primary language of instruction, you do not have to submit TOEFL or IELTS scores
Georgetown University's institution code for reporting TOEFL scores is 5244.
ADMISSION STANDARDS
A minimum undergraduate GPA of 3.0
A strong academic background, with significant undergraduate or professional achievement, is required.
Demonstrated interest in public policy, social science, health care, or community service is strongly preferred. Consideration will also be given to individuals with lived experience.
No work experience is required, though some work, internship, or assistantship experience, especially in non-profit advocacy, public policy, law enforcement, or governance, is preferred.
Because the curriculum is interdisciplinary, it is expected that students will arrive better prepared in some aspects of the curriculum than in others.

Students of a variety of academic and professional experiences are welcome, but applicants should ideally have backgrounds in either a natural science (Biology, Chemistry, Physics), or human science (Psychology, Sociology, Anthropology), policy (Government), or a quantitative field (Math, Economics).

Applicants with strong academic or professional backgrounds in other fields may be competitive for admission and will be considered.
GRADUATION REQUIREMENTS
Completion of the M.S. degree requires 30 credits of coursework and the successful completion of a capstone project. Because of its highly integrated curriculum, the program is intended for full-time students.